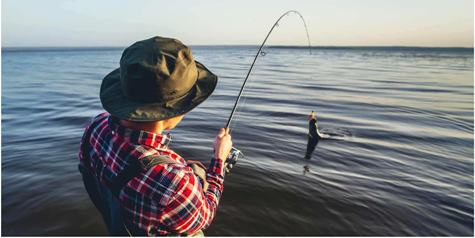 Fishing 101: Ultimate Beginner Guide
Requirements: A rod, License, Enthusiasm to catch your first fish
While getting started in fishing may seem very complicated to most at first it boils down to only a few things, gear, a fishing license, and the rest of the information in this guide. Before long you'll have the ability and knowledge to get on the water and catch some fish.
The Basics
Getting a License
Before you get out and start fishing you're going to need a license. Licenses come in two variations, single day passes which are usually less than $20 and annual licenses which offer a lot more value and opportunities for only a fraction more (Usually $30-$150). So how do you get one? Licenses are sold in fishing shops or online here.
Etiquette
It's important to understand good fishing etiquette before you go fishing for the first time. Always remember to be respectful of others and the environment you are in and don't crowd a spot someone else is already fishing in, always give adequate space for other anglers (around 50-60ft in crowded areas and a couple hundred yards if there are not many people around) and don't keep more fish than you can eat. Also take a second to be sure whether the section you are fishing on is catch and release, limited to artificial lures(No live bait), or fly-fishing only, to be 100% sure always check local regulations on your state's forestry department website.
Where to go?
Picking a place to go fishing might seem tricky at first but it's always best to talk to a real person about good places to fish in your area. More likely than not they have a more current and deeper understanding of your region. Some other resources include fishing apps like Fishbrain or FishAngler. A good rule of thumb is to try local lakes as they often have a bank or dock to fish from and a greater supply of fish.
Gear
For beginners we recommend a spinning reel and rod combo. It's important to specifically look for a combo which is sold together, meaning they're easier to set up. 
A great kit to get started is the EZ Fishing Kit that includes EZ Hooks and EZ Clasps. The Valley Tieless Hook is the best hook on the market for beginners because you don't have to spend hours learning how to tie a hook and can get straight to fishing. Here's a great video explaining how the tieless hook works to get you out fishing in the fastest way possible. The EZ Clasp works in the same way as the valley hook using the Valley Tieless System the difference being you use the EZ Clasp to attack your lures. Using the Valley Hook and EZ clasp you will need to get 0.17" line to go along.
Skills to learn
Casting
Casting with a spinning reel is as easy as winding it up and tossing your bait as far as you can, just like a baseball. Starting with around six inches of line out the end of your rod and the reel beneath your dominant hand. A bail (a thin wire arm) keeps your line from coming out of the spool on a spinning reel. To cast, flip this bail, grip the line with your finger, raise the rod tip up and slightly behind you (think of picking up a phone), and cast forward with your wrist and elbow. Release the line when your rod is vertical or just little forward of vertical to send your lure flying. Flip the bail back over and start repairing your lure once it's in the water and begin reeling
If that was a little difficult to understand, here's a video to further explain casting
Hooking
So you just successfully cast your bait/lure and see some movement in your bobber signaling that a fish is about to take your bait. At this point you're going to want to point your rod tip up and apply moderate pressure to keep the hook/lure in the fish's mouth. Too much pressure and you'll rip right through the fish's lip. Once you have the fish hooked you're going to want to slowly reel back the fish because cranking it back immediately will more often than not result in your hook breaking off. The goal is to tire out the fish and eventually reel it in.