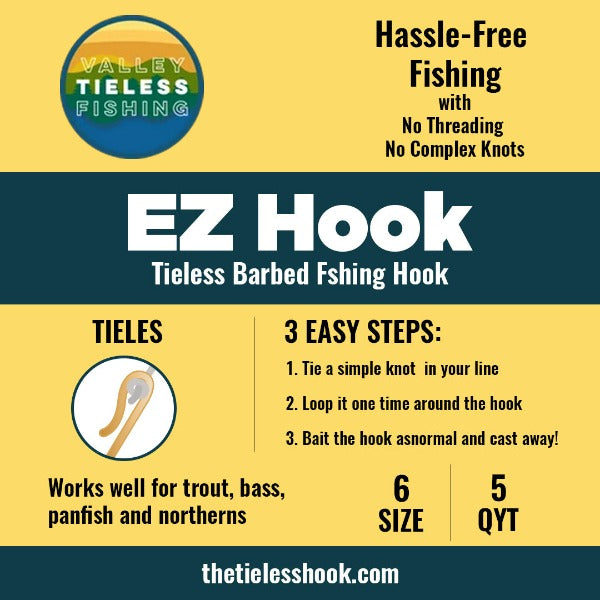 EZ Hook in a size 6 (1 package of 5 pieces)
Original price
$4.99
-
Original price
$4.99
This patented Tieless fishing hook in universal size 6 makes easy to fish.  The Valley in the Valley EZ hook allows you to attach the hook without the need to tie a complex fishing knot, allowing anyone to attach a hook to their 8-10lb diameter braided line.  Great for beginners, mentors, pros and the physically or visually challenged.

Average tested pull strength of 7 pounds.
Works best with line diameter of .012 or greater usually found in 8-10lb braided line.  
 Fast fishing with four simple steps: 
Tie a simple knot on the end of your line.
Loop it one time around the hook.
Bait the hook as normal.
Cast as normal.
The Valley hook in size 6 hooks was rigorously tested for two years.  The Valley hook successfully catches bass, bluegill, perch, crappie, northern pike, and catfish in fresh open water and through the ice. 
The benefits of using the Valley hook in size 6:
Fishing without the hassle of tying knots.
Great for those who can't see close.
Attach a hook with one hand.
Less time tying knots.
Fishing in seconds!
1 package includes 5 Valley hooks