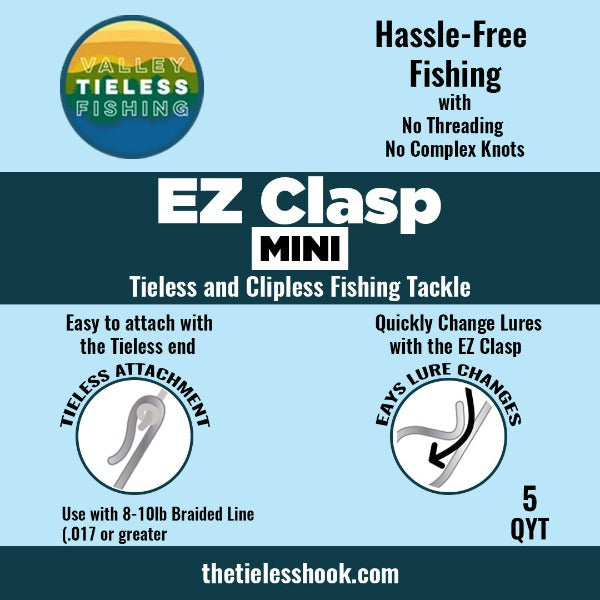 EZ Clasp Mini (1 package of 5 pieces)
Original price
$4.99
-
Original price
$4.99
The EZ clasp mini is a great clasp that has the 2 great benefits of the Original EZ clasp but in a smaller profile.  The smaller profile of EZ clasp mini is perfect for those more finicky species of fish.  The EZ clasp mini is easy to attach using 8-10lb braided line.  Tie a simple knot on one end using the valley tieless system.  It is also easy to attach a lure using the EZ clasp end, which allows for a lure to be attached with out the complicated clasp. 
Attach the EZ Clasp mini in 2 simple steps:
Tie a simple knot on the end of your 4-6 lbs. braided line.
Loop it one time around the hook end of clasp.
The EZ Clasp is firmly attached.
Attach a lure to the EZ Clasp mini in 1 simple step:
Slip your lure's eyelet over the EZ clasp end.

The lure is now firmly attached.
The benefits of the EZ clasp mini:
No hard to press mechanics.
Average tested pull strength of 11 lbs.
Simple, fast effective way to change lures. 

Easy to attach to line without the complicated knot.

Switch from current lure to the new one in less than a second.

Great for anyone who wants to change lures without the hassle.
1 package includes 5 EZ Clasp Mini pieces.
Quality product made in and shipped from Wisconsin.