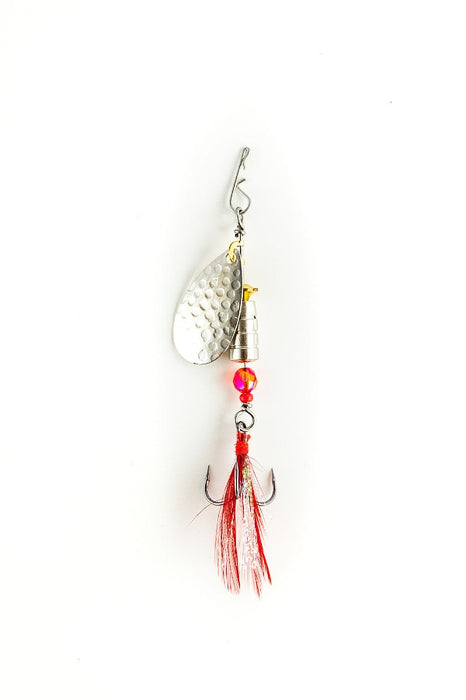 Valley Fishing Spinner 3
Original price
$4.29
-
Original price
$4.29
This lure uses a hammered nickel blade that reflects light in all directions, drawing more attention from nearby fish. Quality-built components and an affordable price tag.
Plus, it comes with our EZ Clasp Mini making it easy to change up your lures any time. But don't just take our word for it – this spinner has been tested and proven to catch fish.
Silver & gold are your main favorite colors of blades. They are your basic colors which will work in all situations. As a general rule, silver is a great color to use on bright, sunny days, whereas on darker, cloudy days, gold would be best. Also, consider the water clarity you are fishing.
Orange and Red are great shallow water colors. (A red bait will look brown or black in the deeper water).

Sunny days / shallow water = Silver blades with Red/Orange beads and -or skirts
Spinners with a treble hook are used for all species of fish. The smaller the fish, the smaller the treble hook.
And when you purchase 5 spinners from us - we'll give you a 6th one for free! 
VTF2 - size 12 treble hooks.
Target Species: Multi - Large Stream Trout, Bluegills, Bass, Crappie
***All VTF spinners come inside a float tube which is watertight, transparent, and makes for a safe, organized place to keep your spinners.